THE GUIDE
Tony Kirby was born in Limerick city. He has also lived in Dublin and Bologna in the north of Italy. He conducted guided walking tours in Dublin in the late 1990s. In 2002 Tony moved to the Burren in County Clare where he founded a small walking tourism enterprise which offers a wide variety of guided Burren walks.
 Tony also works as a heritage education specialist conducting Burren classroom workshops and field trips for primary school pupils.
A new edition of Kirby's critically acclaimed book The Burren and the Aran Islands A Walking Guide (Collins Press, 2009) was published in August 2014.
In 2012 he produced the short film West Cork set at St Gobnait's monastic site in Ballyvourney, County Cork. The film was screened at the 2012 Cork International Film Festival.
Tony Kirby of Heart of Burren Walks was winner of the Burren/Cliffs of Moher Visitor Communication Award 2014.
He is currently researching a number of holy wells/sacred sites in the Burren with a view to a second publication.
HEART OF BURREN WALKS IN ACTION
Trevor Cochrane and Explore TV Australia made a film in Ireland in 2014 about the Wild Atlantic Way. The film was broadcast in Australia on 24th January 2015. You can view the Burren part of the film (3 mins 37 seconds) here as Tony leads Trevor on a walk….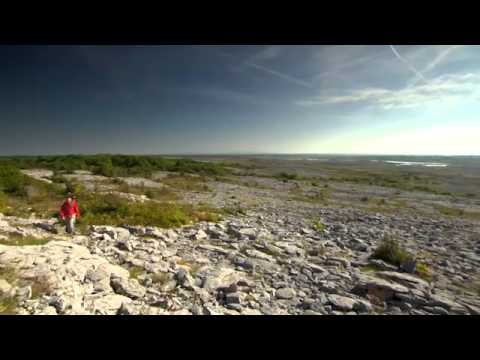 HEART OF BURREN WALKS IN THE MEDIA
Heart of Burren Walks has featured in……………… Newspapers – Irish Times, Irish Independent, Sunday Tribune, Sunday Business Post, West Australia News, Guardian (UK) and Hannoversche Allgemeine (Germany) ; Magazines  – Cara (Aer Lingus in-flight) and Knack (Belgium) ; Radio –  CBS (USA) and RTE (Ireland); TV-  RTE and TG4 (Ireland).
….and GUIDE BOOKS
Heart of Burren Walks is strongly recommended by guide books Fodor's, Frommers, Lonely Planet, Guide de Routard and Rick Steves Ireland (2015 edition).
THEY SAID
I was so lucky to be a part of your tour as a participant of the Fáilte Ireland press trip this September. I really enjoyed your enthusiasm and your deep knowledge of the Burren.
Peter Kyhl Olesen, journalist, Jyllands-Posten, daily broadsheet newspaper, Denmark. September 2014.
13 Responses to "The Guide"
Thanks to Tony for making our walk in the Burren an unforgettable experience.
A Burren walk with Tony offers beauty, geology, history, nature, politics, ideas, serenity, spirituality . . . and as much exercise as you tell him you want. This is the one to take.
If you find yourself wanting more botanical guidance in the The Burren, then go no further than Tony Kirby. Experience a couple of hours of a guided walk in his company and you will learn a lot more than just the names of some exotic plants. He will amble verbally about archaeology, history, literature and art, to name but a few additional subjects other than botany! Throw in some humour, farming and eco-political arguments, ancient tales of yore and poetry and you will have experienced something highly entertaining and not to be forgotten.
Buíochas mor duitse freisin, Tony, for the quality time you shared with our international group of interested walkers last Thursday the 5th of July.

Renewed thanks for re-connecting me to my ancestral roots in this awe-inspiring landscape.

Bail o dhia ar d'obair criomhar".
Slán go fóill go dtí an chéad uair eile ar an mBoireann,
Dear Tony,
I was part of the Swiss press group you guided in the Burren last Saturday.
Your introduction to the Burren was fantastic. Thank you very much!
Dear Tony,

Thank you for the excellent walk you took us on in the National Park on May 31st. We enjoyed it enormously.
I'm definitely looking to come back to The Burren at some time. Many thanks for your inspiration.
Tony Kirby's Burren walking tour is a fascinating description of natural and human history – all the way up to the present. He really brought it to life. It was my teenage son's favorite part of our visit to Ireland.
Ce guide est formidable !!!!!
Il répond aux questions, même en français ou franglais =)
Ce guide est très sympa, fait des pauses et donne des détails sur le coin que vous visités.
Et la vue du haut du Buren est magnifique ! Comme tout autour le paysage est plat, on voit très loin.

Théo, français de 13 ans
Tony is masterful in his gift to explain his knowledge and
understanding of one of the most amazing landscape in the world, his explanation of the formation of the landscape, the local knowledge and understanding of the history and the also the future opinions makes this ramble through the Burren more than worth while. Many thanks Tony for making my trip home to Co.Clare one to remember.
Hi Tony
Walked a wet Burren with you recently and thoroughly enjoyed it and your poetry recitations. Best regards. Orla.
Hi Tony
Thank you so much for the fascinating tour of the Burren. Your knowledge of the area's history; geology; architecture; art; literature;flora and fauna and your charming, humourous delivery, with some poetry recital thrown in for good measure, made for an exceptional and memorable time.
If we ever get back to County Clare I'll be joining you again
All the very best
Lorna Jack-Hooijenga, Stirling, Scotland
Thanks for a fascinating walk through the Burren.
Thank you for a wonderful tour of Slieve Carran and surrounds.
These amazing sites spoke to me on many levels.
Leave a Reply